We specialize in custom Car Audio design and installation. We focus on customer service and the quality of installation of all the electronics we install in your vehicle. We DO NOT use any crimp connectors or t-taps as they are NOT reliable and will leave you stranded when they fail. We solder all connections in your vehicle. We employ only the highest standards of installation and apply those standards in every car we work on. Our team have the highest level of passion for cars, music and the equipment that reproduces music in your car. Stop by and experience first-hand before you spend your hard earned money anywhere else, you won't be disappointed.
Why waste your time at those big store names when you can get superior quality, the latest car/audio technology, and first-class installation all for one amazing price.  AMS CAR AUDIO is a locally owned and operated business in the Fort Saskatchewan. We take great pride in offering our customers with the best products on the market at a price that makes our customers happy.  Here at AMS Car Audio, we promise our customers that you will be satisfied with your purchase and overall experience.  Our Promise to our customers: Great Customers Service, Top of the Line Products, First-Class Installation.
AMS CAR AUDIO LTD. we only stock top of the line products.  Our expert technicians use the latest technology to ensure that the installation process is first-class.
Ahmed Madhas
Owner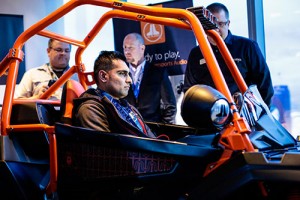 I have been in the car audio Business for over 20years, I started as a shop hand and worked my way up the ladder to management and now Owner of my very own shop. I have a huge passion for car audio and all the aspects of the industry from custom audio systems to cell phone activated remote starters.
I do have my Mobile Dynamics certification. I believe in education and knowledge is the key to setting up the perfect system in any vehicle.  Training is a big part as well, that why we try very hard to attend various install training seminars and workshops to help create new and exciting ideas and making sure we can compete projects with the WOW factor. Our goal is to create a great customer experience with the right brands and technique to complete each job to the highest level of quality and durability, as well as make a whole bunch of new clients and friends along the way.